Join us today to:
make new friends
enjoy monthly programs and interest groups
support opportunity and equity for women and girls through education, research, advocacy, philanthropy

THE VOTE – PBS, KQED July 6
See "Members Suggest" tab for details about women and the vote.
We serve San Carlos, Redwood City, Belmont, Atherton, Menlo Park, East Palo Alto, Portola Valley, and Woodside. Membership is open to anyone with an Associate or higher degree or RN. For more information, call (650) 592-5822; or e-mail us at: aauw-mid-pen@earthlink.net.
Save these dates for future programs:
Saturday,
September 12

, 2020. Welcome a new year!!


Shelley Silbert, executive director of Great Old Broads for Wilderness, will talk about Climate Change: How 

Public

 Lands Can Be Part of the Solution.
---
Saturday,

October 17

, 2020. Joint meeting with League of Women Voters. Topic: November 2020 Election Issues.
---
Saturday,

November 7

, 2020. ACLU spokesperson Beth von Emster will speak.
---
December

, 2020. Neighborhood Parties.
---
---
PREVIOUS PROGRAMS:

June 6

, 2020
Kazakhstani researcher was June speaker,
viaZoom!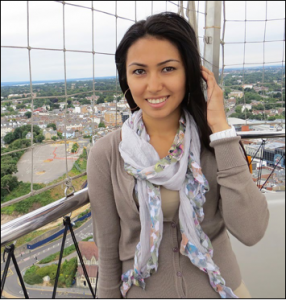 We were so pleased to welcome our speaker for the June 6 Installation/Annual Meeting, Aisulu Aitbekova. A doctoral candidate in chemical engineering, she helps synthesize materials for catalytic and energy applications. HerPh.D. project is focused on converting carbon di-oxide, emission gas, into valuable products such as fuel and chemical
Aitbekova says she is grateful for the help shehas received as an AAUW International Fellowship recipient.
At the same meeting, we will be awarding our Named Gift Honorees for this year, as well as installing our 2020-21 officers. A brief summary of AAUW Funds will be included.
---
May 2

, 2020
 Investment Essentials. An online meeting, presented by our own member, Carolyn Chambers. See May Triad for details.
---
FEBRUARY 22, 2020
Carolyn Hoskins, Founder of the
Domini Hoskins Black History Museum
Meet our local Belmont resident to learn how she created this museum to educate and inform our communities about black history.
---
JANUARY 11, 2020
A New Way to Treat Those with Mental Illness
and
What is Happening to Victims of Human Trafficking?
Hear the latest on two very important topics: mental illness and human trafficking.
Juliana Fuerbringen, Board President of the California Clubhouse,
tells how opportunities for friendship, employment, housing, education and access to medical care in a single location make a difference for those with mental problems.
Human Trafficking Coordinator for San Mateo County Pam Estes speaks on the victims right here in our community and the collaborative efforts of agencies to assist them.
---
NOVEMBER 2, 2019
"Life Afterwards: The Holocaust seen through the eyes of survivor's son," with author Dr. Michael Arend

Michal Arend will speak about the lives and experiences of his parents before, during and after their torture in concentration camps, and also about what he and his sister went through themselves as survivors ́son and daughter, not only affected by the Holocaust but also by other reversals, shadows and crisis periods of the new Czech and European history. The specific perspective narrative from the point of view of the second-generation member is the main feature which make this lecture different from other educational initiatives and offers.
 His lecture in Redwood City will be the first one outside of Europe and also the first one in English language.
---
OCTOBER 19, 2019
"Four Friends of AAUW:
Past Assistance; Future Needs"
featuring
Hope House
WIRE for Women
Healthy Cities Tutoring
The Grateful Garment Project
---
SEPTEMBER 21, 2019
Inspiring Leaders, Tech Trek 2019