---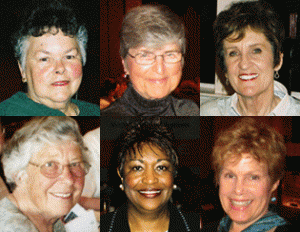 Join us today to:
make new friends
enjoy monthly programs and interest groups
support opportunity and equity for women and girls through education, research, advocacy, philanthropy
We serve women in San Carlos, Redwood City, Belmont, Atherton, Menlo Park, East Palo Alto, Portola Valley and Woodside. Membership is open to anyone with an Associate or higher degree or RN. For more information, call (650) 592-5822; or e-mail us at: aauw-mid-pen@earthlink.net.
---
Saturday, September 21, 2-4pm, Redwood Shores Library*, 399 Marine Parkway at Bridge St., Redwood Shores. Open to the Public (no charge). (Flyer (pdf))
"Inspiring Leaders, Champions and Scientists for Tomorrow": Tech Trek girls will share their experiences from the 2019 STEM Camp.
Greet old friends, make new ones, and learn about the coming year in AAUW as we continue to support equity for women and girls.

*The meeting space is provided as a community service by the City of Redwood City. The City neither sponsors nor endorses this event nor the presenting individual or organization.
---