We serve San Carlos, Redwood City, Belmont, Atherton, Menlo Park, East Palo Alto, Portola Valley, and Woodside. Membership is open to anyone with an Associate or higher degree or RN. For more information, call (650) 592-5822; or e-mail us at: aauw-mid-pen@earthlink.net.
---
make new friends
enjoy monthly programs and interest groups
support opportunity and equity for women and girls through education, research, advocacy, philanthropy
UPCOMING EVENTS
Saturday,

MARCH 
27, 11 am

, 2021. Climate Realities with Mary and Walter Englert.  The Climate Reality Project is a nonprofit organization founded by former Vice President Al Gore in 2011.  Its primary goal is to train individuals to spread awareness of the climate crisis while inspiring action for climate solutions in communities throughout the world.
Wednesday,

APRIL 14, 1:00 pm, 2021.
In collaboration with the San Mateo Branch, an Asian Art Museum docent will make a presentation to us on Demons, Creatures, and Monsters — Oh My!  They even have a creature that combats viruses!
 

Saturday,

APRIL 17, 9:30 am, 2021.  AAUW California's Annual Meeting. Click HERE to register.
Saturday,

APRIL 24, 1:00 pm, 

2021.  Annual Mid-Pen Funds Meeting with Fellowship Speaker, Yvonne Zhang. See the March Triad for more information.  A Zoom link will be emailed to each member.
---
PREVIOUS PROGRAMS
February, 2021


Sienna Fontaine, legal director of Make the Road, New York, spoke about the power of immigrant, low-income, and working-class communities.
January, 2021


Scott McMullin from Villages of San Mateo County.
November, 2020


General Branch Meeting with Beth von Emster, ACLU of No. CA volunteer, speaking on "A Primer of our Rights as American Women."
October, 2020


League of Women Voters Presents Pros and Cons of CA Ballot Measures
September, 2020
Shelley Silbert, executive director of Great Old Broads for Wilderness, talked about "Climate Change: How Public Lands Can Be Part of the Solution.
---
August,
2020

Laura Parmer-Lohan, the vice mayor of San Carlos and a Mid-Peninsula AAUW member, spoke about how she grew into being a strong leader, working her way up in the corporate world.  After finding her seat at the         table, she decided to build 
her own table, and build her own 
business. A very inspiring story.
---
June 6

, 2020
Kazakhstani researcher was June speaker,
viaZoom!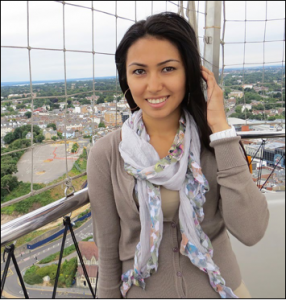 We were so pleased to welcome our speaker for the June 6 Installation/Annual Meeting, Aisulu Aitbekova. A doctoral candidate in chemical engineering, she helps synthesize materials for catalytic and energy applications. HerPh.D. project is focused on converting carbon di-oxide, emission gas, into valuable products such as fuel and chemical
Aitbekova says she is grateful for the help she has received as an AAUW International Fellowship recipient.
At the same meeting, we will be awarding our Named Gift Honorees for this year, as well as installing our 2020-21 officers. A brief summary of AAUW Funds will be included.
---
May 2

, 2020
 Investment Essentials. An online meeting, presented by our own member, Carolyn Chambers. See May Triad for details.